As the demand for glasses continues to increase, a fully functional glasses case has become crucial. The Multi-Functional Glasses Case is the perfect choice designed to meet this need. It not only protects your glasses, but also has excellent portability and multiple practical functions.
Multiple layers of protection
The multifunctional glasses case features a sturdy shell design that can effectively protect your glasses from damage and scratches. This layer of protection ensures your glasses are always in top condition when not in use, without having to worry about possible damage from impact or pressure.
Built-in cleaning cloth
One of the great things about a multipurpose glasses case is that it often comes with a built-in cleaning cloth. This means you no longer need to carry extra cleaning supplies, you can just open the box and be ready to clean and care for your glasses. This is important to maintain visual clarity and comfort.
Compartments and Organization
This glasses case also typically has multiple compartments and organizational features that allow you to store your glasses and accessories neatly. You can easily store your sunglasses, eyeglasses, contact lens cases and cleaning tools separately to avoid confusion and damage.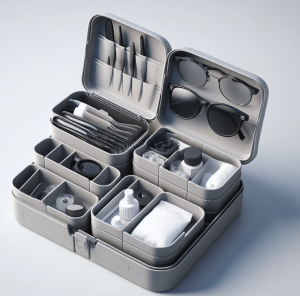 Portability
The portability of a multifunctional glasses case is one of its biggest selling points. They are often designed to be very compact and can easily fit into your handbag, pocket, or car's dashboard storage compartment. This makes it easy to carry and protect your glasses no matter where you are.
Fashionable Appearance
In addition to functionality, multifunctional eyewear cases offer stylish looks and a variety of color and style options. You can choose a glasses case that suits you based on your personal taste and style, making it a part of your fashion accessory.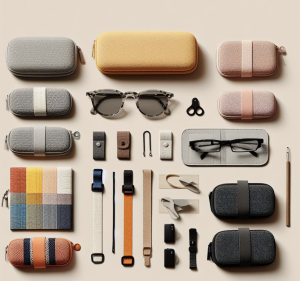 To sum up, the multifunctional glasses case is one of the indispensable accessories for modern people. Not only do they offer excellent eyewear protection, they also come with useful features like built-in cleaning cloths, compartments, and portability. So whether you use your glasses on a daily basis or only wear them on special occasions, a multifunctional eyeglass case is ideal for you. Not only that, they help you stay stylish and tidy, looking your best along with your glasses.
If you are looking for a high-quality multifunctional glasses case, welcome to visit our website to learn about our diverse product range. We are committed to providing you with the highest quality eyewear protection solutions to keep your eyewear looking their best.
Whether for daily use or travel, the multifunctional glasses case is your glasses companion worth investing in. Choose a versatile glasses case and you'll get the perfect combination of premium protection and portability, ensuring your glasses are always clear and comfortable.